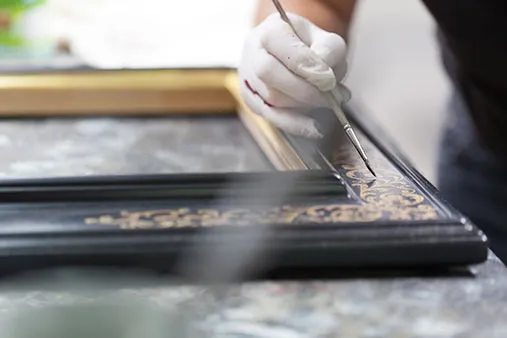 Repair services for picture frames and matboards
In our picture frame workshop we offer professional repair services for broken picture frames, mat boards or canvases. From a simple glass breakage to the restoration or cleaning of artworks we can help you in our workshop. We also work closely with wide network of restorators.

Repair services of our frame workshop
If your picture or family heirloom is damaged or even if it just needs cleaning, you can use one of numerous repair services in our frame workshop. We at Art & More have breathed new life into many favorite pieces, picture frames and canvases.
Benefit from the following repair services that we or one of our restorers in our network can offer for you:
Careful opening and replacement of picture frame glass in case of glass breakage
Professional replacement of yellowed, cracked or soiled mats, including removing and replacing your artwork of old / new mat boards
Replacement of backs damaged by humidity
Replacing picture hangers on picture frames made of wood or aluminum
New stretching of canvases on stretchers after loss of tension
Cleaning of canvases and pictures in case of dirt (dust, nicotine etc.)
Professional replacement of picture frames, e.g. for heirlooms that do not meet your taste anymore
Restorations of artworks by our large network of classified restorers