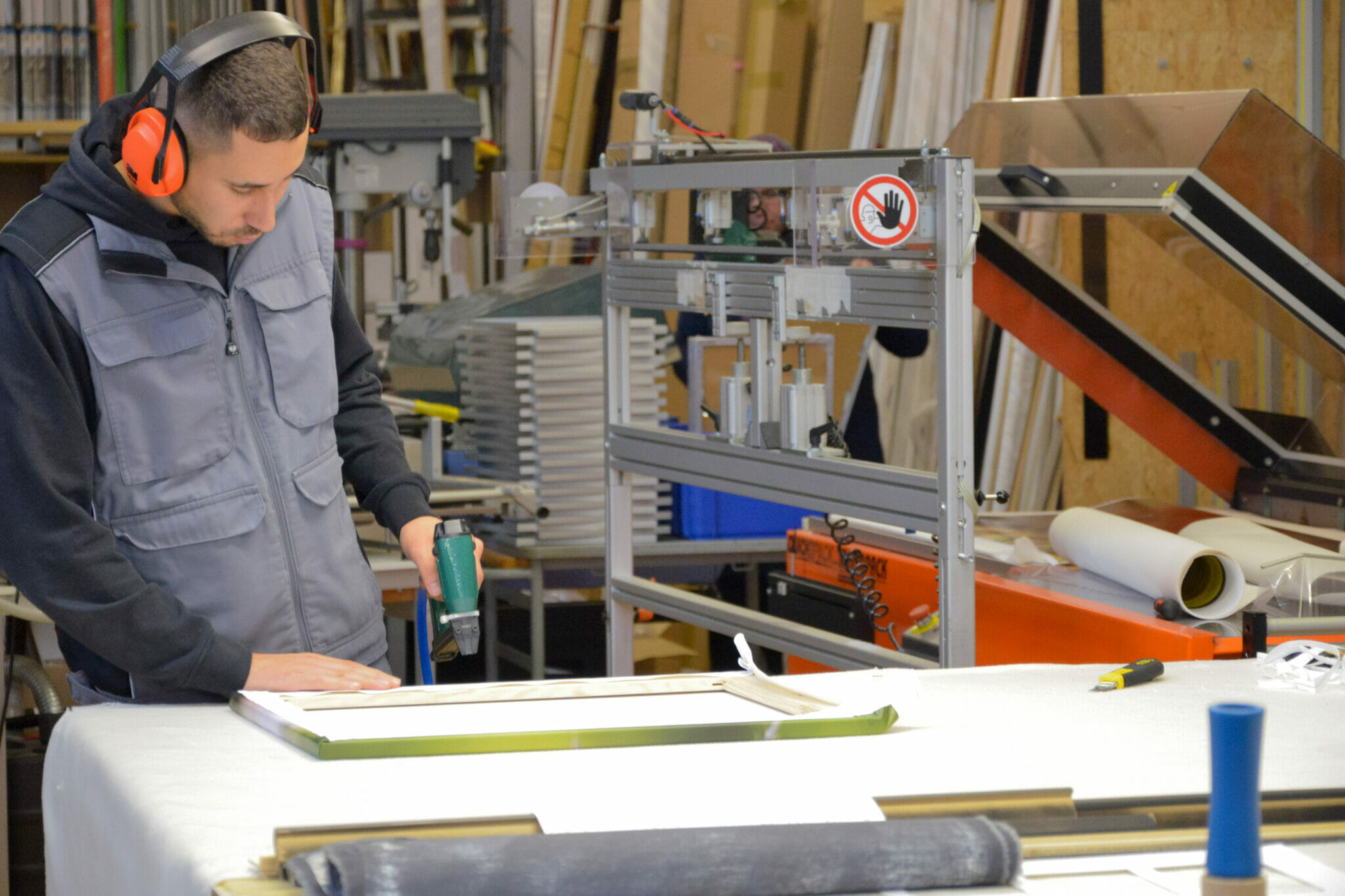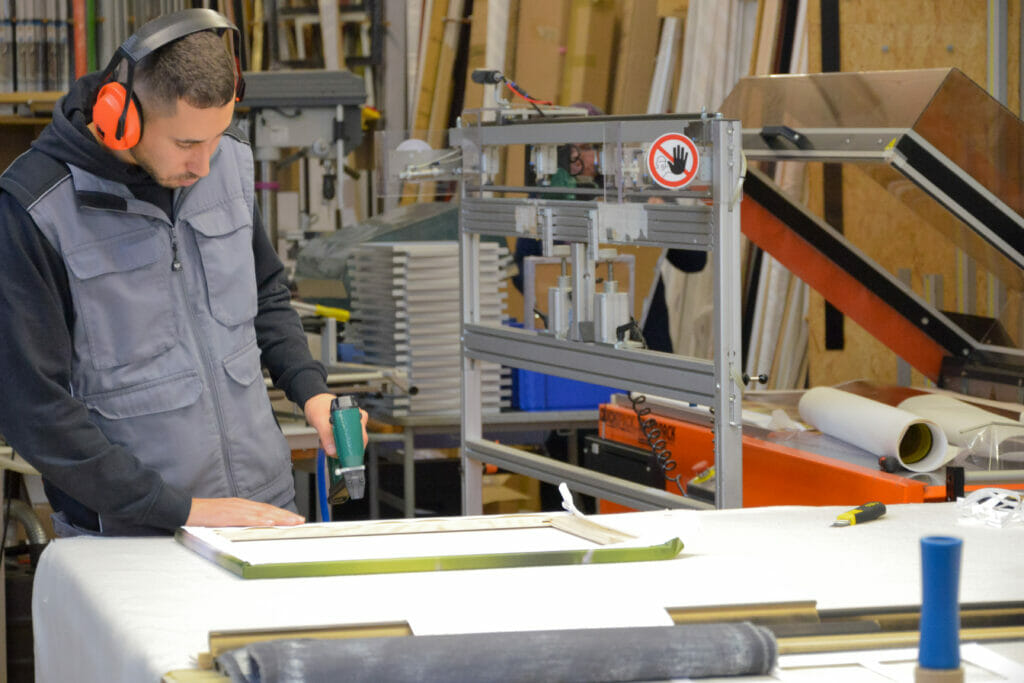 Canvas Stretching Service
Do you need to stretch a canvas, maybe a keepsake from you last holiday? We can stretch any canvas for you on stretcher frames and frame your own paintings or prints on canvas in a high quality frame. In our frame workshop we also print canvas on high-quality fabric and produce our own stretcher frames in different sizes. In addition, we frame and print extralarge and special formats on high-quality canvas.
Have your canvas stretched on stretcher frames
Canvases on stretcher frames are very popular wall decorations. Whether as a painting, print or photo canvas on a stretcher frame or framed, they decorate many walls in houses or offices.
If you have your own canvas, brought from a holiday, inherited or painted rolled up in a corner, then we can raise the canvas for you professionally by hand, stretch it , frame it and bring it to life. We pay particular attention to the subsequent tightening and mounting of your canvas so that no paint peels off (especially pasty applications of paint).

In our frame workshop we offer the following canvas stretching services:
Stretch painted or printed canvas onto stretcher frames
Frame canvas in picture frames
stretch your own paintings on canvas
Cleaning of canvases
Sealing of canvas pictures (Firness)
Own production of wooden stretcher bars in 2 mm and 4 mm width
Hangers for canvas frames in all sizes, easy to put on
Accessories for canvases
theft protection
printig and stretching of extralarge and special formats possible
You don't live in our area? No problem! Just send it to us.
Simply:
1. Call Art & More at 0614294060 and get advice and a first overview of costs from our experts.
2. Go to this page, preferably attach a photo of your canvas.
3. Send the canvas rolled up to us in a roll with proof of delivery. We determine the final costs after checking the material and paint application.
We take care of the rest for you.
Depending on the size, the return shipment is carried out by our parcel service or a shipping company.
Prices for stretching canvas on stretcher frames
In our frame workshop, we stretch your canvas professionally by hand on a wooden stretcher, professionally made in our workshop. Please see standard sizes and corresponding costs for stretching your canvas including stretcher frames below.
Bei individuellen Zwischenmaßen rechnen Sie bitte mit einem Aufpreis von + 12,50 € je Preisklasse.
Wir können Keilrahmen 0,5 cm genau für Sie anfertigen.
Die Lieferzeit für individuelle Größen beträgt 2 – 3 Wochen.
| Canvas size | cost for stretching includingstretcher frame |
| --- | --- |
| 30 x 40 cm | 39 €* |
| 40 x 50 cm | 49 €* |
| 50 x 60 cm | 59 €* |
| 60 x 80 cm | 69 €* |
| 70 x 100 cm | 109 €* |
| 100 x 100 cm | 169 €* |
| 100 x 120 cm | 189 €* |
| 120 x 120 cm | 239 €* |
| 100 x 150 cm | 259 €* |
| | |
Not all canvases are comparable
When stretching painted canvases, there are huge differences in the quality of the material, as well as the quality of the colors used.
In addition to professional advice and implementation, our prices also include factors such as quality assessment and elasticity testing, which can entail more work with very thin material. Depending on the duration and type of storage of the canvas, the consideration of cracked areas, chipped colors, crooked formats, etc. is also a factor. Finally, the size or the size ratio of your canvas also decides whether it is stretched on a 2 cm or a 4 cm stretcher frame and from a size of 70 x 100 cm, a strut or possibly even a cross for stability.
By considering all relevant factors, we offer you an optimal result at a fair price, so that you can enjoy your artwork for a long time.
The above price list is based on standard sizes for your orientation – intermediate sizes may vary accordingly. Please allow a production time of 5 – 10 working days after delivery of the canvas.
Would you like us to print your digital files or photographs on canvas? In our category "Printing & Reproduction" you can find out more about our professional printing service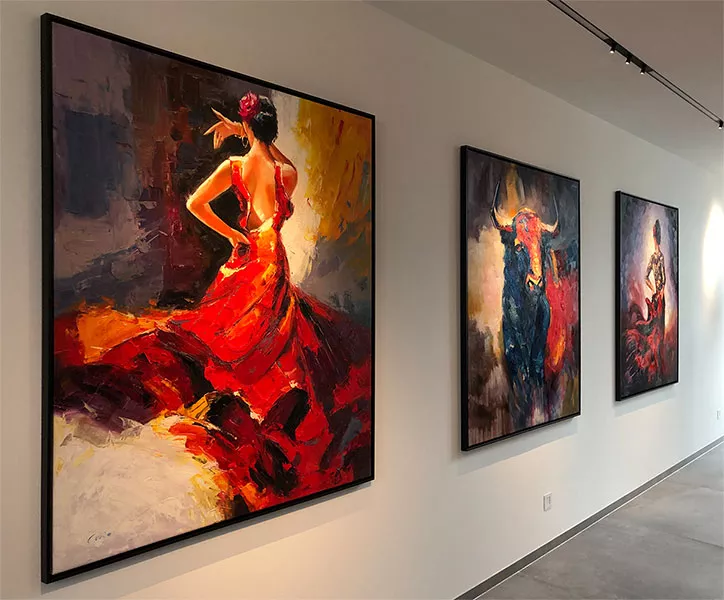 .