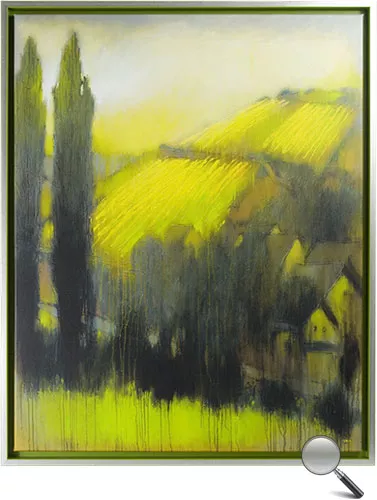 Floater frame for your canvas on stretcher bars
A floater frame is the perfect frame for stretched canvases. There is a small gap of approximately 1 cm between the canvas and the frame, which makes your motif appear almost floating. A floater frame gives every canvas that certain special look and offers high-quality framing in a wooden picture frame. In our frameshop, as well as our online shop, we offer a large selection of self-made floater frames in different shapes and sizes.
Framing of your canvas in a floater frame
A floater frame offers your stretched canvas a very special and high-quality look. At the same time, they emphasize your motif by giving it more depth and protection. We manufacture floater frames on demand in our frameshop and also offer a large selection of handmade frames in standard sizes in our webshop. They are finished and pre-drilled so that you only have to fix your canvas.
Floater frame services and products:
Framing of your painted or printed canvas in floater frames
Stretching of a canvas on stretcher frames
Inhouse production of wooden stretcher bars in 20 mm and 40 mm
Hanger for floater frames
Many colors and styles
Variety of pre-drilled floater frames in standard sizes available in the webshop
Theft protection
Large formats and special formats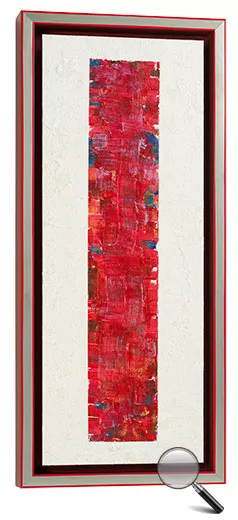 Are you looking for a high-end presentation for your canvas on the wall? A stretched canvas can be professionally framed in a floater frame made of wood.
The floater frame is a frame with a 1 cm wide gap between your canvas and the actual frame and is not glazed. This gives your canvas a modern look and extra depth.
Cost for a custom-made floater frame
We offer a wide range of floater frames in different colors and at different prices.
You can briefly calculate a simple, custom-made floater frame with a price starting at 50 € / running meter (picture on the left varies in price).
Floater frame costs
In our frameshop we professionally frame your canvas by hand in a floater frame. The list below shows standard canvas sizes and prices for a floater frame. Prices mentioned would be for a standard wooden black frame.
| size of stretched canvas | price floater frame, standard wood black |
| --- | --- |
| 30 x 40 cm | starting at 69 €* |
| 40 x 50 cm | starting at 89 €* |
| 50 x 60 cm | starting at 109 €* |
| 60 x 80 cm | starting at 139 €* |
| 70 x 100 cm | starting at 169 €* |
| 100 x 100 cm | starting at 199 €* |
| 100 x 120 cm | starting at 219 €* |
| 120 x 120 cm | starting at 239 €* |
| 100 x 150 cm | starting at 249 €* |
| | |
*These are estimated prices and apply ONLY to the pre-drilled floater frame. Additional services such as the professional framing of your canvas in that floater frame or the stretching of the canvas on stretcher bars by one of our employees will be charged separately.
.
.