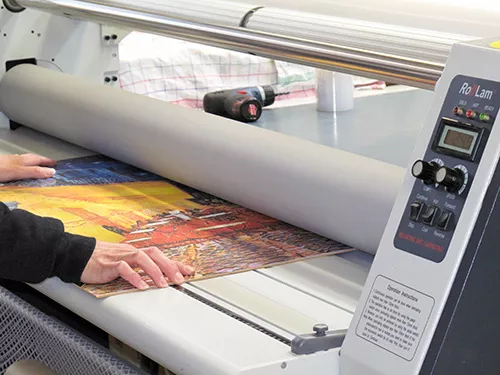 Professional lamination of artwork
Laminating pictures, prints or photos is a modern alternative to classic framing. Mounting means sticking an image onto an Alu-Dibond or Forex board. By mounting an artwork one can avoid the warping of unlaminated papers or photographs. Lamination is a "sealant" that provides images and photographs with extra UV protection and protection against scratches. Laminated images on Alu-Dibond plate material or other materials such as Forex or paper often appear lighter on the wall than images in a frame. Our experts can advise you on the optimal mounting and lamination in our frame workshop and do it professionally for you.
We laminate and mount your pictures and photos professionally
Laminated pictures or posters, e.g. on Alu-Dibond carrier material, are modern wall decorations. They are stable and at the same time light looking on the wall. Whether posters, (advertising) posters, papers or maps: laminated images adorn many walls and are also popular in public institutions and hospitals or for quick and stable presentation at fairs and exhibitions.
If you have a photo or poster that needs to be stabilized and protected against warping or scratches, ask our experts for the optimal mounting and lamination of your specific artwork. We recommend exactly what suits your artwork and your wishes best – from the right backing material to the mounting and lamination.
Added value of lamination and mounting
An additional lamination provides UV protection against yellowing or fading of the colours (colour protection) and protects the image from abrasion and scratching (mechanical protection). Ultimately, a suitable lamination also allows the outdoor use of your artwork.

We offer the following products and lamination services for you:
Advice on possible carrier material and procedure
Laminating and mounting of photos, pictures, posters on paper, foam or aluminum Dibond plate material
Lamination on paper and insertion into a picture frame
Mounting on aluminum dibond plus suitable plate hangers
Mounting on Alu-Dibond with back frame for a 3D effect on the wall
Lamination for outdoor use
Use of matt, glossy or semi-gloss laminate
Hanger for different carrier materials, theft protection
Lamination and Mounting of large and special formats
.