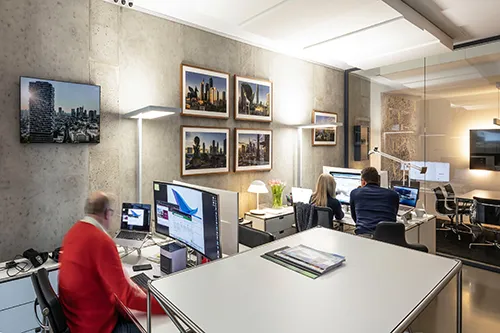 Picture Hanging Systems for flexible hanging of frames
Picture hanging systems are part of a flexible and sophisticated system to hang picture frames. We offer the as wall rails and ceiling rails and they both allow a fast and flexible hanging and re-hanging of picture frames without drilling holes in the wall. In combination with matching ropes and hooks you get a modern and professional solution for the presentation of picture frames on the wall. They are easy and quick to assemble and can be expanded to your needs without damaging the wall.
Picture Hanging Systems – flexible hanging and re-hanging of pictures
Picture Hanging Systems are a sophisticated system for the flexible hanging of picture frames without drilling useless holes in the wall. Once mounted in the room -to either wall or ceiling- they allow a fast and professional presentation of images throughout the room.
When using picture hanging systems, frames can be quickly and easily hung or re-hung without damaging your walls. In combination with ropes and picture hooks the hanging and moving of frames along the rail is professionally and easily possible.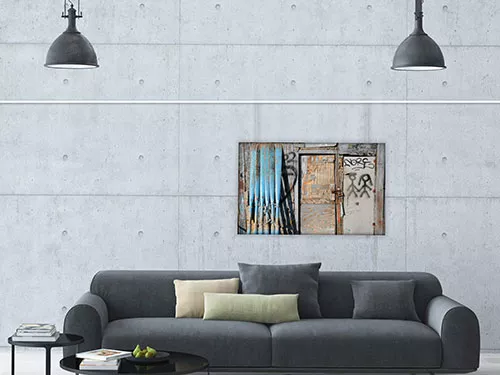 Components of a picture hanging system
The picture hanging system consists of high-quality aluminum rails in various designs. They are available in the colors white and silver. The white rail can be repainted in your desired colour. Usually they are offered as 2 m rails (corresponding to sets of 4 to 100 m), which can be easily cut with a small metal saw to the desired size.
For maximum flexibility, you have a wide selection of ropes and picture hooks for different needs. The ropes differ in material (steel or perlon) and the way they can be threaded into the rail. The matching picture hooks vary in their capacity and the manner of locking on the picture rope, e.g. manual or self-locking.
In our workshop as well as in our online shop we offer a large selection of picture hanging systems for you:
Rails in white and silver
Single aluminum rails or complete sets including ropes and picture hooks for every requirement
Heavy duty rails for hanging large and heavy pictures
Illuminated rails for an ideal illumination of your pictures
Picture ropes with screw gliders, sliders or twisters for the insertion into the rail
Picture ropes made of steel or perlon in various lengths from 1 – 5 m
Picture hooks with different capacities from 2.5 kg to 20 kg per hook
Picture hooks with manual locking screw or self-locking