Matboards for certificates
Matboards are used to frame and present certificates or awards. They vary from simple, monochrome mats to double matboards in different colors with decorative V-Grooves. Whether you need a mat for private use or in series for a business, we will produce customized matboards for your certificates in our frameshop.
Have your matboards for certificates cut to size
Our high-quality mats serve the professional presentation and storage of certificates and awards in picture frames.
We offer certificate mounts in 80+ colours and different qualities. Our matboards for certificates are also available in oversizes up to 150 cm.
All high-quality Art&More certificate mats have an optimal flatness and a 45 degree cutting edge around the motif.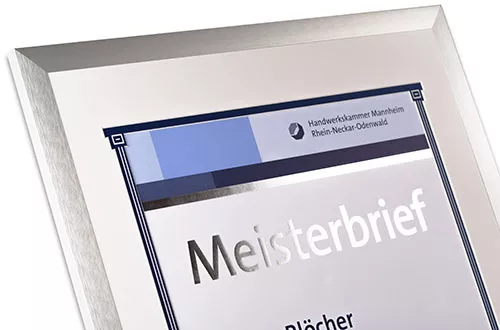 The unique Art&More framing service for certificates:
We cut your matboard for certificates individually
Single, double and multiple mats in different colors
Decorative V-Grooves and cutouts for objects such as medals etc.
Printing and lamination of documents
Packaging and framing of certificate series for companies